So, I know that there are lots of quizzes out there, but I thought that this one was kind of fun. Here's my results and I'd be interested to see what everyone else is in the princess world. Now, if only I actually looked as beautiful as my princess...
You Are Pocahantas!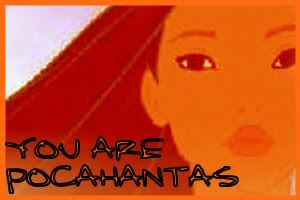 Free-spirited and wise. You have a strong passionate spirit that touches and changes all who know you. The wisdom and common sense that you have is really what guides you through life. Even so, you also have a very playful side that loves adventure and excitement.
Which Disney Princess Are You?